Shopify Website Design
Shopify is a no-brainer if you want to sell your products successfully online.
New Shopify Website (Custom Design)

Bespoke design with CRO focus.

Regular price

£5,000.00

Sale price

£5,000.00

Unit price

per

New Shopify Website (Template Design)

Pre-built design for your industry.

Regular price

£2,500.00

Sale price

£2,500.00

Unit price

per
Collapsible content
Custom vs. Template Design

Custom design (6-8 weeks project)

For businesses with solid revenue and budget to invest in a unique design.
Design including CRO for 2 customer profiles, goal-oriented design, interactive design process + custom theme development
Return on investment can be provided if you got minimum of 6-12 months order history available

Template design (3-4 weeks project)

Recommended to businesses and startups with no order history, or a low budget.
Including one of my pre-built design templates that can be customised to suit any industry
Ready to go Shopify website with instructions of how to mange and add content.
Costs of a new Shopify website

The majority of my custom Shopify website design projects requires an investment in between the range of £5,000 - £10,000.

If you've a budget below that I'd recommend a pre-built design for your new Shopify website. That usually range between £2,500 - £4,000.
Initial meeting

We always have an initial meeting so we can outline the project properly before onboarding.

If you live nearby Leeds we can have a physical meeting, if not, we'll run it over a video meeting.

If needed we have ongoing short feedback meetings as well. These are usually kept very straight to the point around 15-30 min.
Adjustments once project started

You can change your mind during the project as long as it's within the scope of the original website request.

That's why we usually have quick feedback sessions along the project milestones.

After we've completed the website and it's live you also have 14 days of free feedback you can use for adjustments.
Payment terms

Once we've outlined the project in our initial meeting a 50% deposit must be paid before we start the onboarding and design process.

The remaining 50% will be paid once the new website is approved by you.

Once the final payment is completed I'll transfer full store ownership to you.

You can pay by PDF Invoice, or secure online payment link.
Custom design
Suitable if you're established business looking for a unique design.
Initial brand questionnaire
Goal-oriented custom design
Conversion rate, page speed & user experience in mind
CRO journey for "The Researcher"
CRO journey for "The Purchaser"
Data insights/market analysis 
Help with product & category setup
Go live ready Shopify website
Instructions on how to manage your website
Realistic budget: £5,000 - £10,000
If you got at least 6-12 months of order history I'll help you estimate ROI.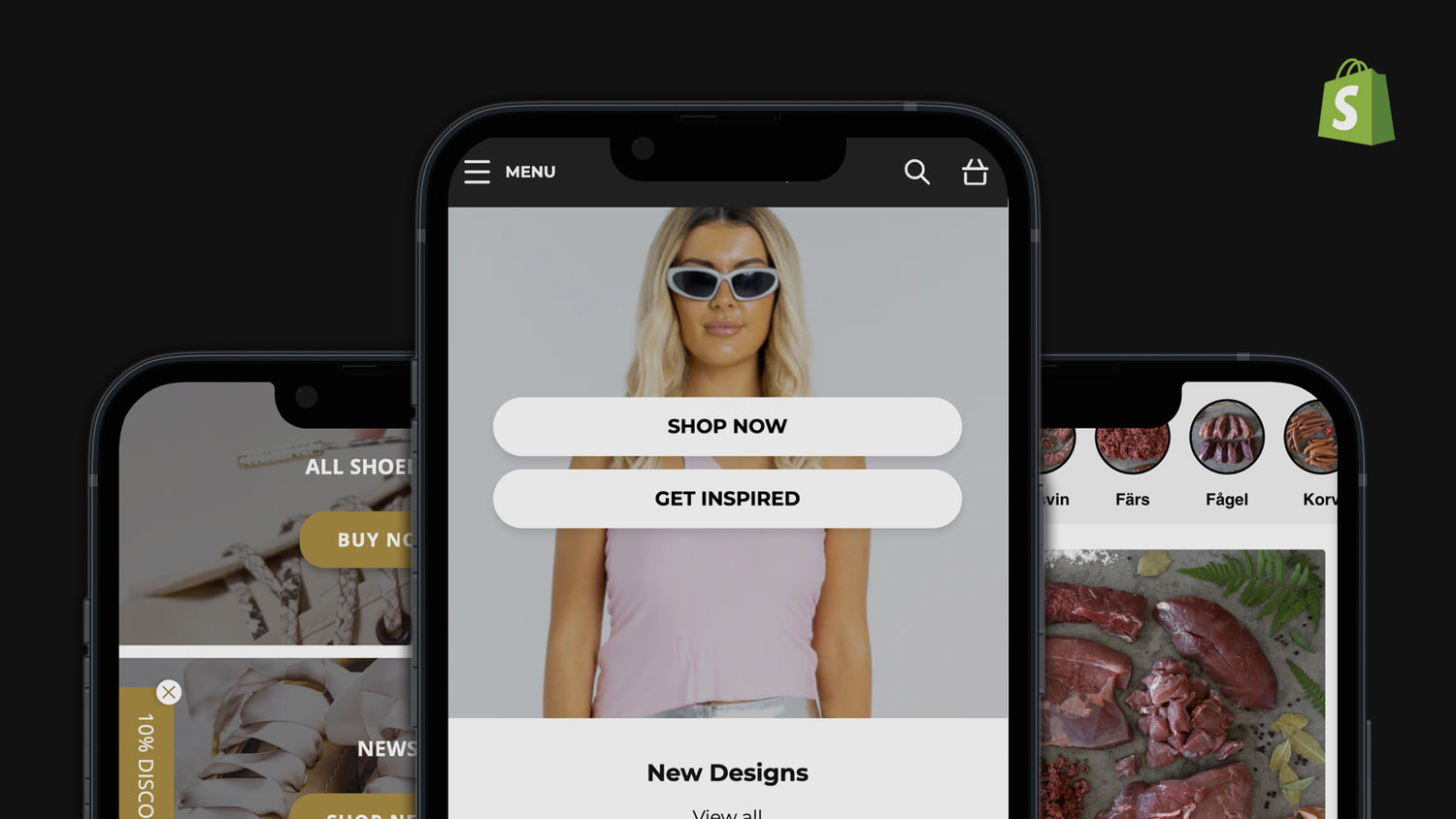 Template Design
Suitable if you're just starting up and have a low or tight budget.
Included:
Initial brand questionnaire
Pre-built design for your industry
Custom features for upsell / bundles
Help with product & category structure
Go live ready Shopify website
Instructions on how to manage your website
Realistic budget: £2,500 - £4,000
Why Shopify is a no-brainer
Scalability & Growth Potential
Shopify is designed to support businesses of all sizes. Whether you're starting small or aiming for rapid growth, Shopify offers the flexibility and scalability you need.
You can easily handle increased traffic and sales without any disruptions, ensuring a smooth experience for both you and your customers.
User-Friendly Interface
Shopify offers you a very easy-to-use interface, making it simple to manage your online store without any technical expertise on a daily basis.
Smooth Payment Integration
Shopify provides you with smooth integration with various payment gateways, allowing you to accept payments securely and conveniently. This ensures a smooth checkout experience for your customers, making it easy for them to complete their purchases.
Low Operating Costs
Shopify's cost-effectiveness comes from its bundled features, affordable plans and user-friendly interface that requires no coding skills. It's a popular choice for businesses looking to minimise their expenses without compromising on functionality.
Global Expansion
Reach customers globally with Shopify's built-in capabilities to tap into new markets. Expand your business and explore opportunities with Shopify Markets in just a few clicks.
Strong Security Measures
Shopify takes your store's security seriously. It implements robust measures to protect your store and customer data.
From SSL certificates to data encryption and automated backups, Shopify ensures that your online store and your customers' information are kept safe and secure.